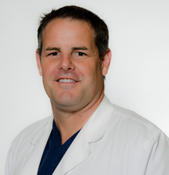 Ben Hogan, MD, was born in Athens, but grew up and currently resides in Valdosta, Georgia. As a high school student at Valdosta High School, Dr. Hogan played quarterback for the Wildcats under legendary coach Nick Hyder, where he was recruited by and received a scholarship to play football for the University of South Carolina. A four-year letterman at USC, Dr. Hogan received various honors during his undergraduate studies, including induction into the Mortar Board and Gold Key Honor Societies and being named Academic All-Southeastern Conference. Dr. Hogan was also awarded a Southeastern Conference Post-Graduate Scholarship and attended Mercer University in Macon, GA, where he earned his Medical Degree before continuing his Family Practice Residency at the University of Alabama in Tuscaloosa. During this time, Dr. Hogan served as President of the Tuscaloosa Family Practice Residency Association, and worked closely with the Sports Medicine Team at the University of Alabama Athletics Department. During his Residency, Dr. Hogan also served as local Director of Sports Medicine for HealthSouth in Tuscaloosa covering nine high schools in the area.
After completing his Residency, Dr. Hogan moved back to his hometown of Valdosta to open his practice, focusing on primary care and sports medicine for patients of all ages. Dr. Hogan is Board Certified in Family Practice and serves on the Medical Staff at South Georgia Medical Center where he is currently Chief of Family Medicine. He also serves as assistant Medical Director for the Langdale Hospice House. Since returning to Valdosta, Dr. Hogan has also continued to serve as Team Physician for the Valdosta City School System and for the student-athletes at Valdosta State University.
Dr. Hogan continues to promote the role of primary care in the sports field as he works with community leaders, organizations, his patients and other individuals in various sports endeavors within our community. An athlete himself, Dr. Hogan regularly competes in endurance sports events, such as triathlons and road races, as well as coaches and supports other athletes in their competitive and recreational health and fitness endeavors.
Dr. Hogan is married to Leigh Ann, and they have two children: Haley and Pate. He enjoys spending time with his family, triathlons, golf, mountain biking, tennis…and just about every other sport.